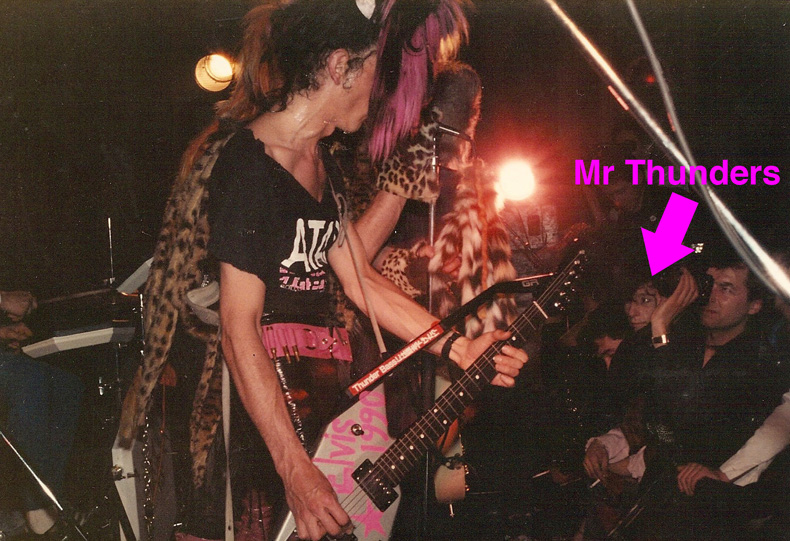 You can put your arms around these memories.
Yet I look back on these times with a great fondness for Johnny Thunders. We spent a lot of hours together talking and watching television. He was funny, smart and undoubtedly the real thing.
Johnny and Christopher, his manager, eventually went back to New York.  Steve Jones moved to L.A to go and get clean.  Jerry stayed in Sweden.  Magenta stayed in P.R working for Tony Brainsby. (She would eventually leave to work as a television presenter on the BBC 2 program "Rough Guides", keeping the dark glasses on and maintaining that extraordinary aura that made her feel like a movie star).  Life at Pindock mews returned to some kind of normality for Magenta and I. Well not exactly. The Thunders monster had been replaced by the Sputnik monster now and the various band members were staying at Pindock Mews whilst the whole group rehearsed in the spare bedroom.
In 1984 I got a call from Alan Hauser at Jungle records and ended up working with Johnny in the studio remixing The Heartbreakers Album, L.A.M.F, ostensibly to restore its murky sound to a modern clarity, which looking back I feel was a mistake as I believe you can never really recreate the moment, so what you gain in treble you loose in heart.  I suppose it was really about milking a few more sales out of the product.  Even I stupidly bought the remastered Raw Power album. You can read further about these times in Nina Antonias book about Johnny called "In Cold Blood".
Johnny then went to live in Paris. I get a call from Christopher one day to say can I come over to play a show with Johnny at Gibus Club. I take Mark Laff again and this time  Neal X and Degville from Sputnik come with me for the trip. Neal X plays guitar for the whole gig alongside Mark Laff on Drums. Degville joins in on the encore.  Ironically you could say this was the first live appearance ever of Sigue Sigue Sputnik on stage. Years later I was amazed to find there is a blurry video tape of that night, Thunders jamming with Sputnik on their debut!
Eventually in 1985 at Sputnik's big live debut in London at the Electric Cinema, there in the front row was Johnny Thunders, come to support my new band and give it his blessing.  That meant a great deal to me.
Johnny continued to haunt me over the next few years. His shows with hastily picked up bands ever more erratic, played for drug money rather than love became sadder and sadder. I was forced to watch from a distance as this incredibly talented, gifted guitarist and songwriter gradually lost it. Even the staunchest of fans and reviewers despaired.  In 1987 Melody Maker's Carol Clerk, a huge fan, reviewed a gig summing up what was happening:
"It was the night that Johnny finally blew it, the night that the joke, if ever there was one, died a pitiful death and began to stink. Even the diehards, the Thunders clones who will usually accept anything from their hero so long as he's legendary (ie out of his head), found this apathetic performance quite unacceptable, saw the legend revealed as a lazy little man who was prepared to take the money and not even run, just stumble sadly, through a mere handful of songs with all the enthusiasm of a stuffed goat. I've seen Thunders clean, on-form and brilliant, I've seen him stoned and absolutely bloody awful, but I've never seen him like this, so listless, so tedious, so depressing. There was nothing glamorous about any of it and there was nothing, not a stir, to suggest that a single person in the audience was finding this anything other than an immense disappointment and embarrassment, an outrageous waste of money."
I somehow was drawn in again and got involved with mixing of the "Live at the Lyceum" Thunders album.  It was painful in the extreme, not least because he insisted on overdubbing sections, completely oblivious to the out of synch DVD that would go on be released and it was to be the last time I saw him.
Many years later I met David Johansen, Arthur Kane and Sylvain with Mj at the reformed Dolls gig for the Meltdown Festival in London. They were totally together and realistic about the world they now found themselves in and they were great to talk to. Even better for me was to have Sylvain tell me how much they enjoyed Sputnik, clearly knowing all about it. That evening completed the New York Dolls circle for me.
There were some truly great Rock and Roll moments during those years, many moments that still make me smile as I recall them.  But there were also many times of great sadness, terror even and I felt nothing but joy when I finally walked away from Pindock Mews and all it's memories.
Bottom line for me is that heroin is a drug too far.
R.I.P
Johnny Thunders
Jerry Nolan
Sid Vicious
Steve New
Stiv Bators
Tony James, February 2011